We will continue to maintain our high standards just to see
your smiling face and hear you say "This is delicious!"
We will continue to maintain our high standards in creating a superior product, thus putting form to the heart and soul of this business... We create "OISHII!" We always strive to develop products that are truly special by using only carefully selected fresh ingredients, and carefully managing product quality. Our goal is to find the delicious taste that astonishes all our customers and helps to spread smiling face. Using the finest ingredients means that cost is always a hurdle, but we will never compromise when it comes to taste. So long as we have happy and satisfied customers, we will continue to maintain our high standards to the greatest extent possible.
We produce more than 300 items.
By bringing together an efficient studio layout, staffing, and advanced technology we are able to produce products in three temperature zones, dry, chilled, and frozen. In addition to our own high production capacity, we are able to rapidly distribute fresh products to our customers.
We won more than
31 monde selection GOLD medals.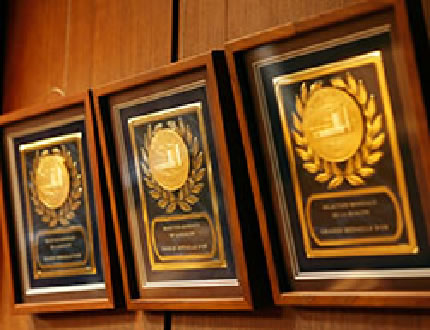 The Monde Selection is said to be the Nobel Prize of food, and is recognized by world gourmets. SunLavieen has actively submitted its products to the competition since 1997. We have won many Grand Gold Quality Awards and received high praise from the world.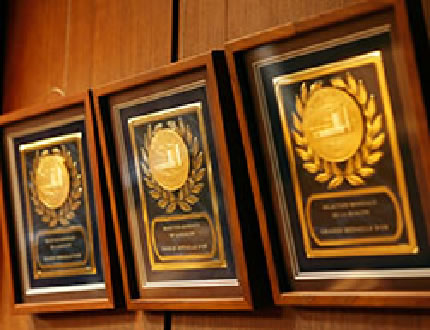 Made with high quality Japanese Ingredients
We develop and create our pastries and sweets using high quality ingredients from Japan. We scrutinize the origin of ingredients and good taste to satisfy our customers with cakes and pastries comparable to those of a cake shop.
Peaches "Shimizu-Hakuto" / Grapes "Pione" (OKAYAMA)
"Setouchi Lemon" / "Setouchi Blueberry" (HIROSHIMA)
"Uji Matcha" (KYOTO)
Strawberries "Amaou" (FUKUOKA)
"Naruto Kintoki Sweet Potatoes" (TOKUSHIMA)  etc.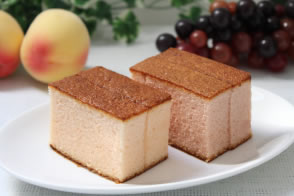 Complete Quality Control
We have introduced HACCP, and conduct our manufacturing operations based on those guidelines. In addition, we have also established our own high safety standards. We have obtained an international standard ISO certification and aim for further recognition of our production management based on HACCP standards. We undertake advanced quality management initiatives.

We put a great deal of effort into the storage of those ingredients.
We practice strict management of our high quality materials such as our dedicated egg refrigerator, and 24 hour usage limits. 
About SunLavieen
Our mission
We provide delicious taste, harmony, and peace through cakes pastries and help people come together by fostering communication among people.
History
| | |
| --- | --- |
| 1980 | Closed the re-rolled steel product business, changed business categories, and changed our company name to SunLavieen. Co., Ltd. |
| 1991 | Smash hit of Oligo Cheese Cake |
| 1992 | Smash hit of Pudding Cream Cake |
| 1996 | Completed our second factory, and opened a retail outlet shop |
| 1997 | Smash hit of Belgium Waffle |
| 2002 | Started an online direct sales website called "Café SunLavieen" |
| 2004 | Established an additional research and development office and product quality assurance office |
| 2012 | Smash hit of KOFUKU Roll |
| 2015 | ISO 22000 certified |
| 2020 | FSSC22000 certified |
Company Profile
Trade Name
SunLavieen Co., Ltd.
Founder
The late Atsumu Urabe
Representative
Morihiro Urabe, President CEO
Date of Foundation
1963
Foundation of Current Business
1980
Number of Employees
300 (as of January 1st, 2016)
Business Outlines
Western/Japanese style cakes and pastries, and bread manufacturing and sales
Sales offices
Western Japan sales office, Tokyo sales office, Nagoya sales office, Osaka sales office
Export Destinations
Asia, Europe, North America, Oceania
(15 countries : about 30 clients)
Outline of Facilities
STUDIO 1
Establishment : March, 1981
Dimension : 5,000㎡
Production Items : Decoration Sponge Cake,Pound Cake, Cheese Cake, Brandy Cake, Castella Cake etc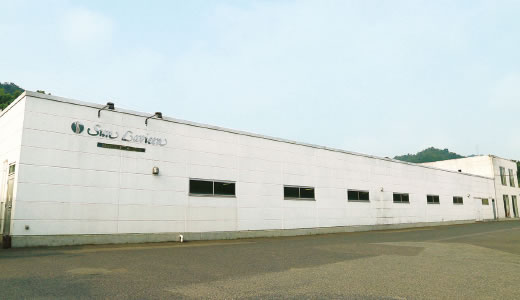 STUDIO 2
Establishment :August, 1996
Dimension : 5,700㎡
Production Items : Belgium Waffle, Castella Cake,Cream Puff, Éclair, Tart, KOFUKU Roll etc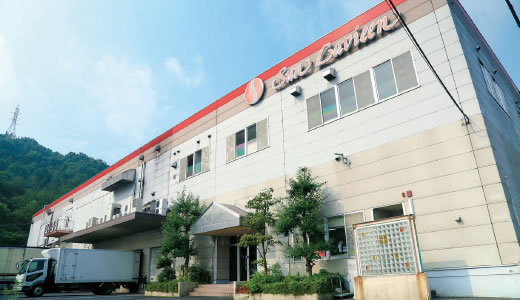 Location
Address of Headquarter:
3920 Shinjo Satosho-cho, Asakuchi-gun, Okayama, 719-0302 ,JAPAN
Phone: +81-865-64-4771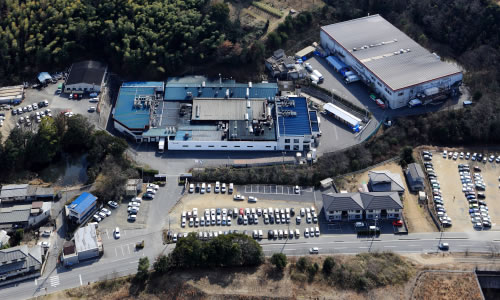 Acquisition of FSSC22000 certification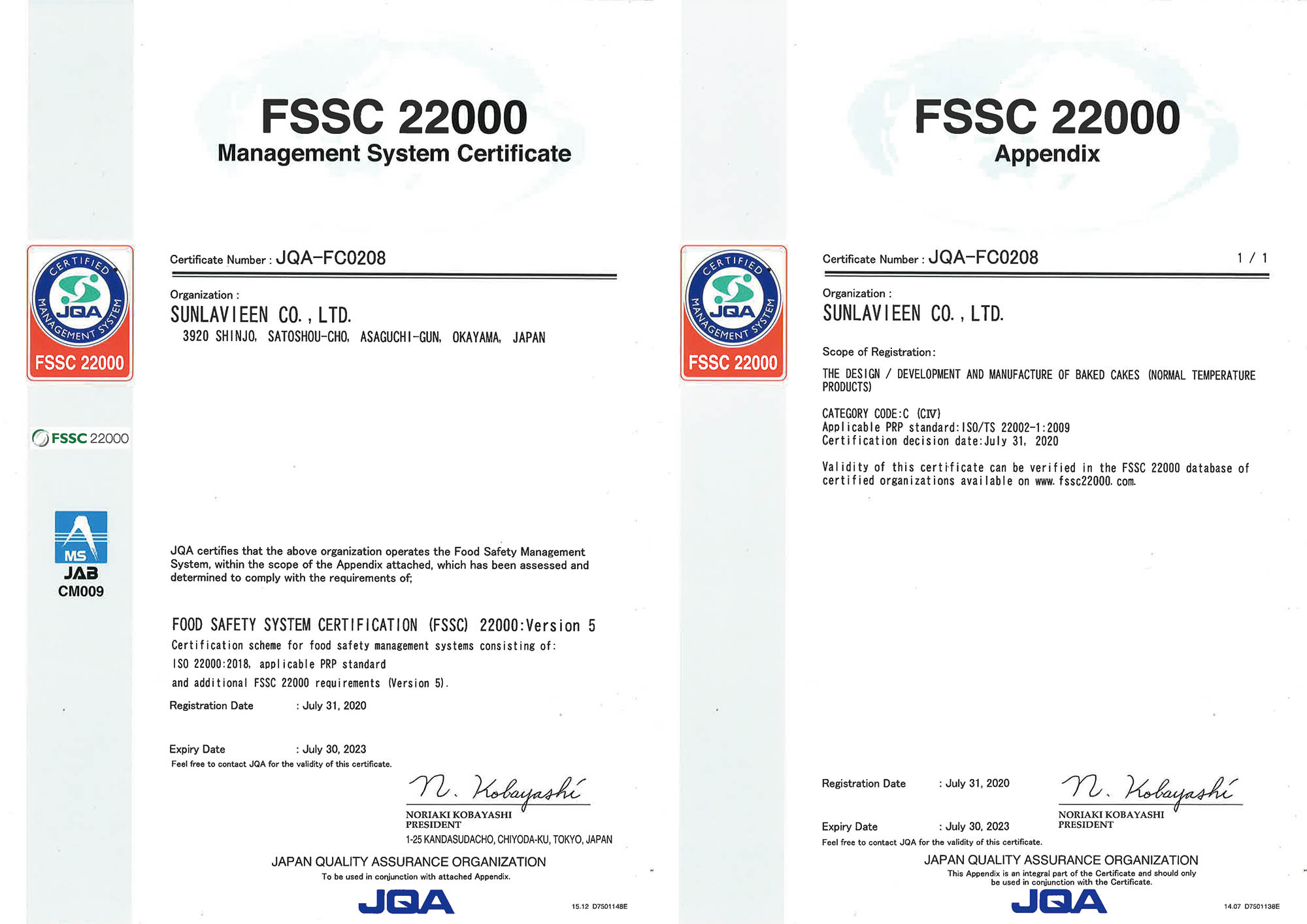 SunLavieen Co., Ltd. has acquired FSSC22000 in order to establish an even higher level of food safety management system. FSSC 22000 is an international standard for food safety management consisting of requirements of international standards such as ISO 22000 and FSSC Additional Requirements including implementation of food defense and food fraud mitigation. We have developed specific management systems to fulfill all these stringent requirements and applied to the production operation. By adhering to the standards of FSSC22000 and implementing continuous improvement using the PDCA cycle, we will continue to provide customers with safe and good quality products. Registration Date: July 31, 2020 Certificate Number: JQA‐FC0208 Scope of Registration: The design / development and manufacture of baked cakes (normal temperature products)
Corporate Social Responsibility Activities
Contact